Geffrye Museum (GMus) in Kingsland Road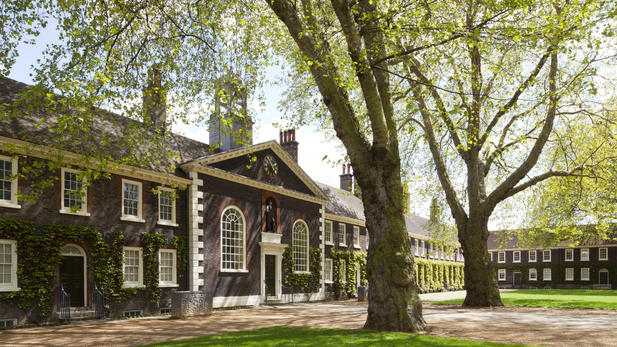 The Geffrye Museum (GMus) depicts the quintessential style of English middle-class living rooms. Geffrye Museum (GMus) collections of furniture, textiles, paintings and decorative arts are displayed in a series of period rooms from 1600 to the present day.
GMus is an executive non-departmental public body, sponsored by the Department for Culture, Media & Sport.
Location: In London's East End.
The Geffrye Museum of the Home
136 Kingsland Road
London
E2 8EA
Tel: 020 7739 9893
Fax: 020 7729 5647
Opening hours: Monday – closed, Tuesday – Sunday – 10am – 5pm
Website: http://www.geffrye-museum.org.uk/
View location of Geffrye Museum, London on google maps
Travel
Overground: Hoxton Station (directly behind the museum)
Tube: Old Street (Subway 2), then bus 243 or a 15 minute walk
Tube: Liverpool Street, then bus 149 or 242 or a 20 minute walk
Rail: Liverpool Street
Buses: 67, 149, 242, 243, 394
Cycling: 8 cycle stands, inside the main entrance Cycle docking station – Falkirk Street and Geffrye Street, Hoxton
Parking
Limited meter parking locally.
Disabled visitors: In front of the museum for up to three hours between 10am – 4pm.
Staff contacts:
General enquiries: info@geffrye-museum.org.uk
Bookings: bookings@geffrye-museum.org.uk
Press and media: press@geffrye-museum.org.uk
Curatorial enquiries: curatorial@geffrye-museum.org.uk
Shop enquiries: shop@geffrye-museum.org.uk
Volunteering enquiries: volunteering@geffrye-museum.org.uk
Development: development@geffrye-museum.org.uk
Museum hire: hires@geffrye-museum.org.uk
Opening hours
The museums's eleven period rooms and special exhibitions are open at the following times:
Tuesday – Sunday :10am – 5pm
Bank Holiday: Mondays 10am – 5pm
Closed on: Mondays (unless Bank Holiday), Good Friday, Christmas Eve, Christmas Day, Boxing Day, New Year's Day
The herb and period gardens: open until the end of October.
The front gardens: open all year round.
Café : until 4.45pm
Shop: open during museum hours
Features
Period Rooms
Almshouses
Gardens
Also explore
360 panoramas
Virtual tour
Period Rooms
The Geffrye's period rooms show how homes and home life have changed over time.
The period rooms are not the actual living rooms of actual people.
Shows styles and tastes have evolved in the past four hundred years.
The type of furniture and furnishings and the main changes in the style of English homes.
Visitors are invited to sit on a replica chair in each of these introductory displays
The eleven period rooms are presented chronologically, 
Hall, 1630
Parlour, 1695
Parlour, 1745
Parlour, 1790
Drawing room, 1830
Drawing room, 1870
Drawing room, 1890
Drawing room, 1910
Living room, 1935
Living room, 1965
Loft style apartment, 1998
Almshouses
Tickets to enter the Restored Almshouse :
General museum admission is free
Adults £4, Friends of the Geffrye, disabled visitors (and their companion) and children under 16 free.
Places are limited: first-come, first-served.
Groups of 8 or more can book in advance.
Information and Bookings Officer: 020 7739 9893 (1st and 3rd Wednesdays only).
Gardens
Front gardens
Herb garden
Period gardens
Also explore
Take a moment on your journey through the museum to explore some of these special spaces.
Original almshouse chapel, a beautiful, high-ceiled space complete with wooden pews and pulpit.
Relax in this tranquil space overlooking the beautiful garden reading rooms.
Features of 20th century paintings of interiors.
Cafe
Book a table: 020 7749 6030
Opening hours: Tuesday – Friday, 10 – 5pm
We serve hot dishes, salads, sandwiches, pastries and cakes, as well as hot and cold drinks, wine and beer.
The café is set in a light and airy space overlooking the period gardens.
We offer smaller sized portions of soups and sandwiches for children.
For groups of less than 8 there is no need to book.
View our current menu and drinks menu.
Shop
Telephone: 020 7739 9893
Email: shop@geffrye-museum.org.uk
Buy online.
Group visits
Bookings Officer: 020 7739 9893
Email: Bookings
Facilities for groups:
a wide range of talks, which can be tailor-made to suit different needs and interests.
a light, airy café overlooking the gardens, serving home-cooked English food at reasonable prices.
a well-stocked shop, offers specialist books and high-quality gifts and crafts.
View our group lunch menu.
Book tickets
For booking tickets, call: 020 7749 6024
Email: bookings@geffrye-museum.org.uk
Events
Contact, Events team: 020 7739 9893
Email: hires@geffrye-museum.org.uk
Wedding parties for up to 60 people can be accommodated.
view our Wedding Brochure.
Jobs
Job Applications, Geffrye Museum, 136 Kingsland Road, London, E2 8EA.
Email: jobs@geffrye-museum.org.uk
For a full job description, please download here.
For an application form, please download here.
NOTE: Only candidates with the requisite essential criteria will be considered.